CREATRIX® IS CYCLE-BREAKING, WISDOM-GAINING, CUTTING-EDGE, EMOTIONALLY HEALING, EMOTIONAL INTELLIGENCE-RAISING, AND STRESS-RELEASING.

It goes so deep, it releases what we didn't even know we had – which is a deep reverberation of '"less than", rippling throughout the DNA of our gender from centuries of trauma and conditioning.
DO YOU…
OVER-EMOTIONALISE?
UNDER-VALUE YOURSELF?
OVER-REACT?
Break the cycle… FAST!
What is Creatrix®?
CREATRIX® is a novel approach to personal development that is based on the innate way women operate. It honours the maternal and creator elements of consciousness that have been overlooked in traditional approaches.
For example – as women, we KNOW we are different – our monthly hormone cycles are just one (very obvious) point of difference. Why does this matter in Personal Development – well, have you ever worked with something like Affirmations – there are times of the month when you truly do believe what you're telling yourself….. a couple of weeks later though – that same activity that previously helped you so much, it leaves you full of self-doubt – with the little devil on your shoulder contradicting EVERYTHING you are telling yourself.
Women who have experienced Creatrix® will tell you that it's simple, fun and easy to do…. and SOMEHOW it just works.
That's because, throughout the process you….
Re-LEASE – Emotional and limiting blockages.
Re-LEARN – Your own soul's life lessons & tools to move forward.
Re-CODE – Delete inherited negative patterning.
Re-FRAME – Your entire perspective so you can….
Re-CREATE – The life you want!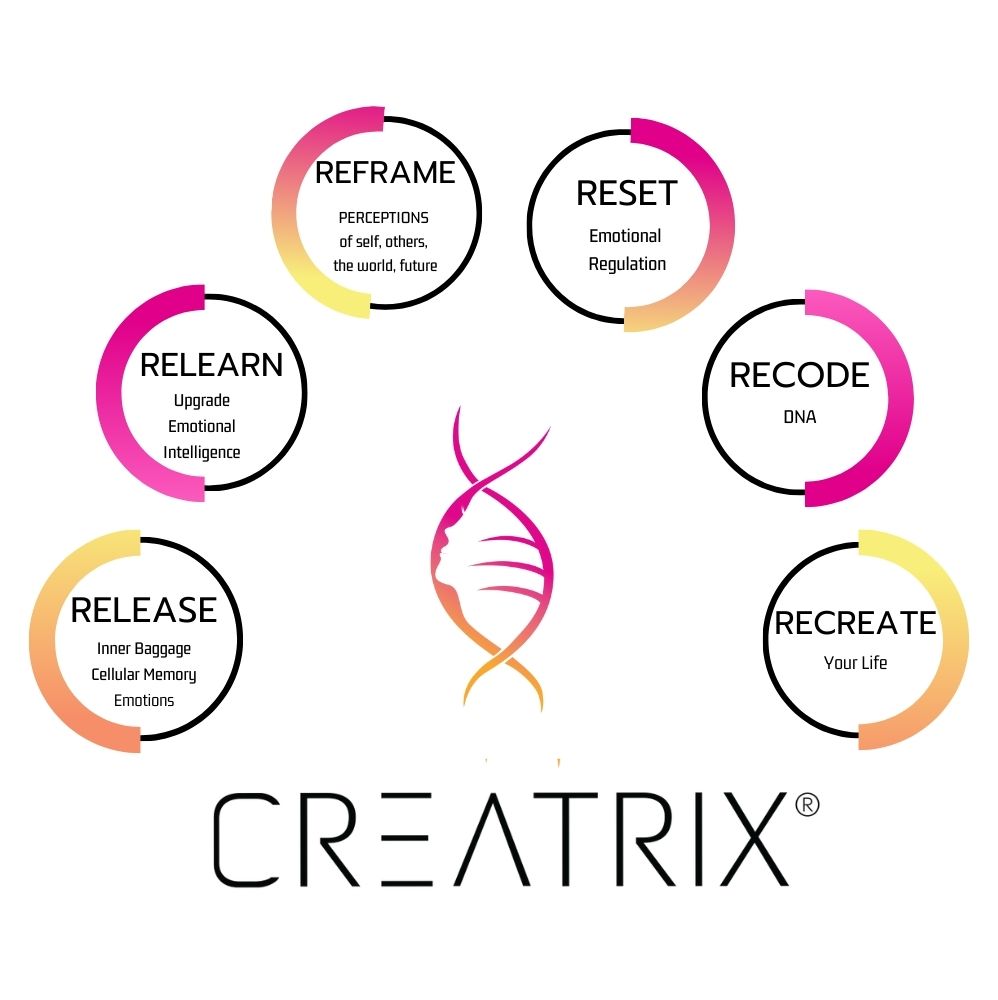 How does Creatrix® work?
Creatrix® utilises the power of creative visualisation in a unique way that emotionally and mentally educates the nervous system back to lasting calm. It puts your personal life 'affirmations' on autopilot, able to be called up as needed – when triggered – allowing you to get on with life.
It's designed to stop the deepest of intergenerational patterns from returning, by healing the heart from the pains of the past. In doing this, Creatrix® raises your emotional intelligence at a deep subconscious level, refines your intuition, and improves your ability to confidently make wise decisions in your life!
As a Creatrix®️ Transformologist® I take my female clients on a safe and even fun, mind-visioning journey until her self-realised learnings come through. These reset and re-educate her unconscious mind, freeing her from her the shackles that are holding her back in life.
The Creatrix® process harnesses the science of epigenetics, resolving insecurities and inner conflict, while rapidly raising emotional intelligence, intuition, and creativity. Sound too good to be true? It must be seen and experienced to be believed!
Science, Spirituality, Psychology & Self-help Combined to create the PERFECT METHOD for Women.
ONE METHOD FOR ALL ISSUES!
BOOK A SELF ESTEEM RESET


Reset your self-esteem, value yourself, be yourself and find comfort in your own skin. Accept yourself, trust yourself and find balance within.

BOOK AN EMOTIONAL REGULATION RESET
Regulate your emotions and stop over emotionalizing with an emotional regulation reset. Change how you respond to triggers that consistently make you feel overwhelmed, angry, worried, and hurt.
BOOK A STRESS RESPONSE RESET
Reset your nervous system with a stress response reset. Reset those responses that cause you to fight, flight, freeze, people please and overreact.

FAST – SAFE – LASTING
PROFOUND & CONTRASTING
IRREVERSIBLE TRANSFORMATIONS